Nation brand is the dignity of a country
Korea must raise its global status by making efforts to gain credibility and likeability in the international arena.
The presidential Council on Nation Branding is an organization that responds to these needs, managing people, products, and the overall image of South Korea by continuing to establish mid-term and long-term goals and strategies.

The Presidential Council on Nation Branding serves as a control tower that integrates and controls government-promoted services. The council has established 5 main focal points and 50 initiatives. It also aims to utilize citizens' potential and encourage nationwide participation in its efforts.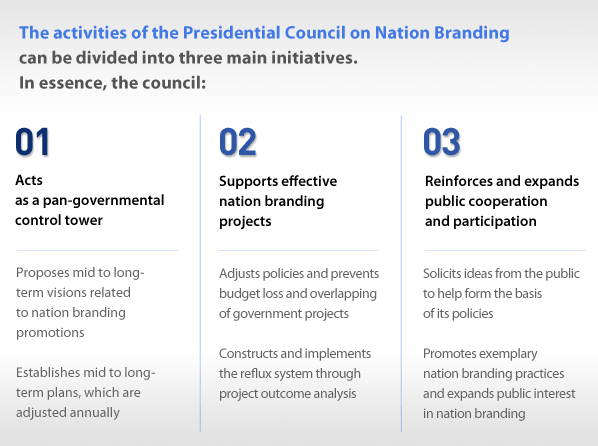 The activities of the Presidential Council on Nation Branding can be divided into three main initiatives. In essence, the council: 01. Acts as a pan-governmental control tower - Proposes mid to long-term visions related to nation branding promotions Establishes mid to long-term plans, whic are adjusted annually 02. Supports effective nation brading projects - Adjusts policies and prevents budget loss and overlapping of government projects Constructs and implements the reflux system through project outcome analysis 03. Reinforces and expands public cooperation and participation - Solicits ideas from the public to help form the basis of its policies Promotes exemplary nation branding practices and expands public interest in nation branding